Polycarbonate awning,canopy,window awning,pc awning,door canopy,window canopy,canopies,sun awning,rain awning,sun shelter,rain shelter,outdoor canopy,awnings,diy awning,sunvisor,rain cover,sun cover,sunshade awning,house canopy,building canopy,villa canopy,pc canopy,polycarbonate canopy,garden canopy,sunshine awning,aluminum awning,aluminium canopy,engineering plastic bracket,awning support,awning arm
Product features
Wind resistance,Impact resistance,Anti-aging,Anti-corrosion,Self-clean by rainwater
Bended design for noise reduction,UV filtration, 80% light transmission
Sheet:PC solid sheet,PC sun sheet
The awning support material:Engineering plastic
Connecting parts: Aluminium profile
Accessories:expansion bolt
Dimension:600mm,800mm,1000mm,1200mm
Infinitely increase the awning supports and free to extend for assembling
The innovative DIY awning completely departs from the traditional custom-made welded awnings.DIY awning is simple in its main structure,which is composed of PC sheet and the awning supports.Being mass-produced and conforming the rigid design standard,DIY awning is consistence in its super product quality and can resist typhoons safely.
The awning support is strong and endurable.It is no obvious injury by 4.5 kilogram iron ball impact.The service life is 8-15 times as much as ordinary awnings'.Being tested in Bad weather conditions,the awning supports can be used more than 20 years.
The current original awning textures are not good enough.It is dangerous by typhoons resistance.Cloth awning and plexiglass awning also can't resist typhoons durably.but DIY awning supports are made from advanced materials,so the DIY awning supports can resist typhoons durably and reduce noise.
DIY awning is do-it-yourself ready and can be installed easily by homeowners,which totally saves the cost and space.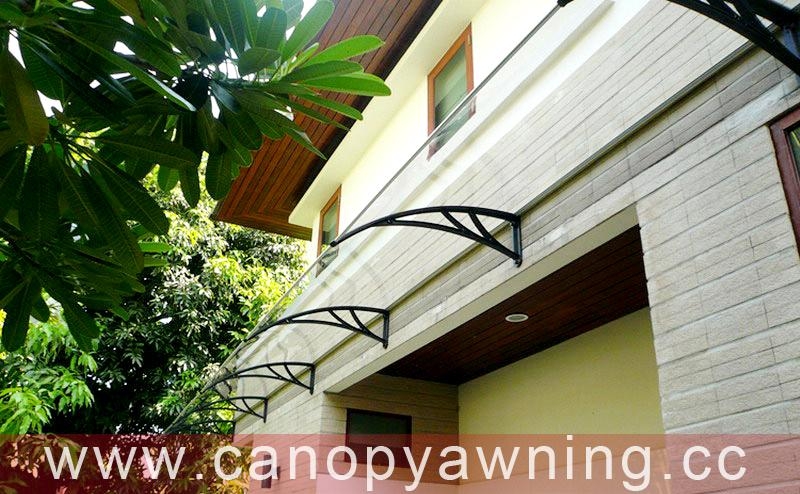 Let's look at some of the benefits of using DIY awnings
Aesthetics – Provide cover to patios, windows, doors, verandas, shop fronts, corridors, walkways, air conditioning units etc, and adds to the aesthetics, elegance and beauty of your building.
Protection From Fading – Will protect your windows, doors, furniture, flooring and furnishings, amongst others from fading. In addition, they retain room brightness. They protect your outdoor furniture fabric from fading, too.
Saving Construction Costs – DIY awnings provide you with extra space in your house, unit, apartment or commercial establishment without construction costs. They are also significantly less expensive than any permanent construction, and are like adding an extra room.
Self-Cleaning – Little to no maintenance necessary as it cleans itself with every rainfall.
Lightweight – One-third the weight of acrylic, or one-sixth as heavy as glass.
Durable – Provides incredible strength & durability and a sturdy well-made design. Does not rust or corrode from sea blast.
Anti-UV Protection – Providing an easy and economical solution from the sun & rain, giving you 99% UV Protection, whilst allowing natural light to pass through.
Flame & chemical resistance – Our awnings are specially coated with a unique formula to protect them from cleaning chemical and damaging elements of heat and fire, high flame performance rating is class B1.
Easy assembly & Installation (D.I.Y) – Put it together yourself using the supplied instruction booklet for a quick & easy installation process, you can finish installation within 5 minutes easily.
Elegant design – Nature awnings have a slight curve which provides a modern, contemporary look.
Heat insulation & sound-proof – Polycarbonate board has good heat insulation, it lets in light and keep out heat. Also, it has superb effect of sound-proof, 28 decibel decrease for our solid polycarbonate sheet.
Environmentally friendly – Do your part in helping preserve our planet, DIY awnings are made from 100% new materials which can be recycled.
Wind protection – Our awnings are shatter-proof and are lab tested to withstand strong winds of up to a category 2 hurricane. Rest assured that whatever the weather, our awning is strongly built.
Good light transmission – Allows 12% – 88% depending on colour and thickness.
Impact resistant – 250-300 times stronger than ordinary glass and 20-30 times that of acrylic sheeting. The impact strength is 10-27 times as much as Plexiglas.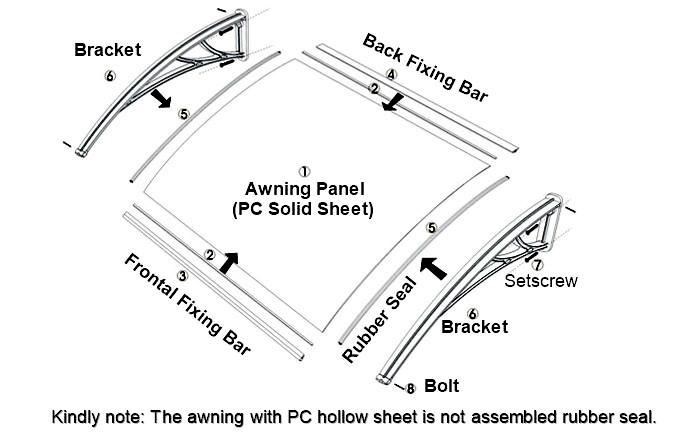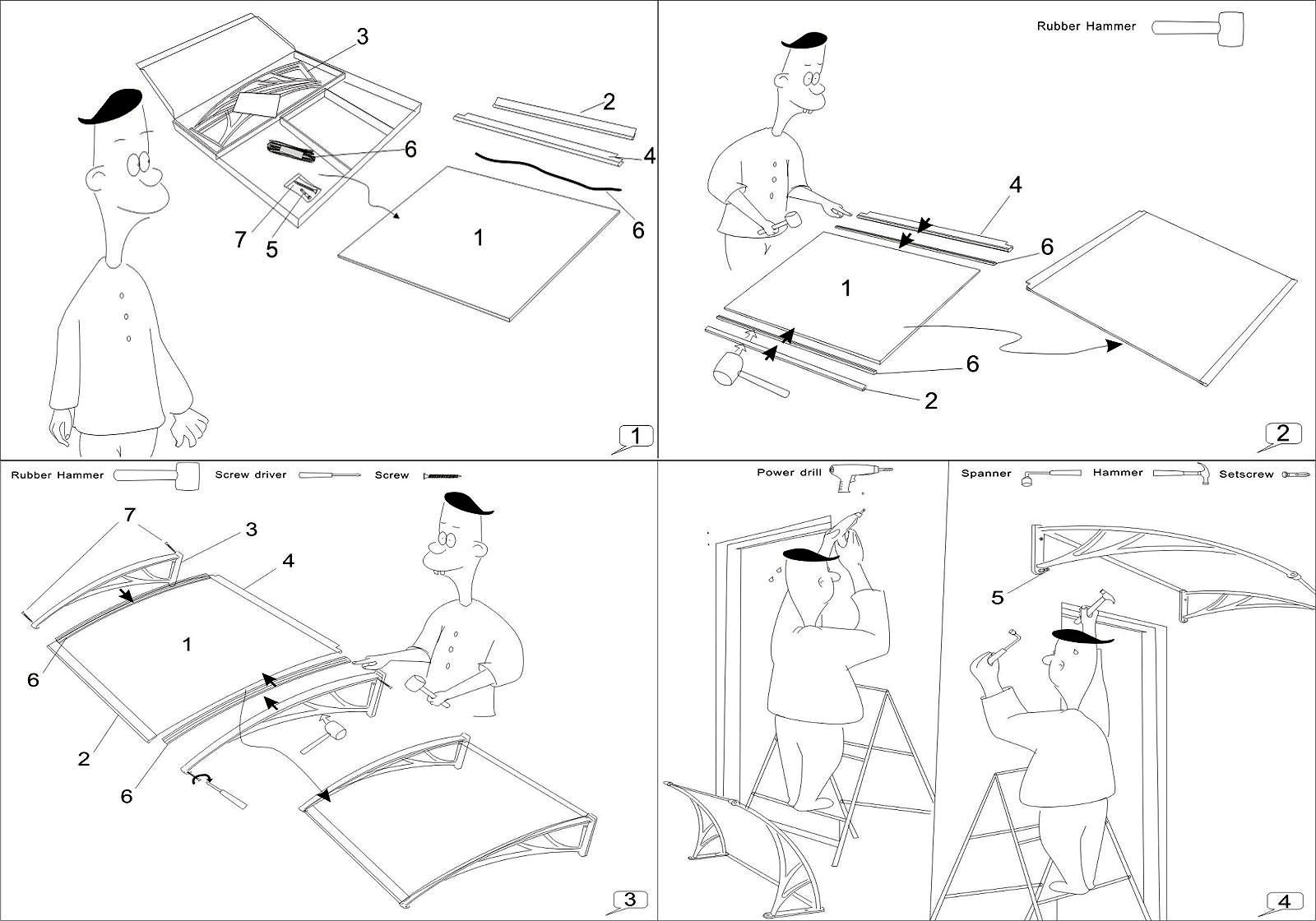 Installation Tools For DIY Awning
Website: www.canopyawning.cc
Polycarbonate awning,canopy,window awning,pc awning,door canopy,window canopy,canopies,sun awning,rain awning,sun shelter,rain shelter,outdoor canopy,awnings,diy awning,sunvisor,rain cover,sun cover,sunshade awning,house canopy,building canopy,villa canopy,pc canopy,polycarbonate canopy,garden canopy,sunshine awning,streh?,afdak,???????,Markise,tendal,тэнт,prandium,саравч,τ?ντα,napellenz?,pāku?i,mái hiên,тенди,tenda,markis,markiisi,tentas,varikatus,markiza,tende,kapi,kovrado,?????????,??????,?????,aodach,toldo,tentu,banza,marchiz?,eloelonao,????????,varikatus,markyza,napellenz?,markise,zonnetent,store,fa?ailoga,тенде,tente,kajang,ukukhwabanisa,baldachyn,canopée,навес,tjaldhiminn,baldachim,baldachin,Canopie,baldakimas,dosser,überdachung,baldakin,baldacchino,baldakijn,θ?λο?,ke uhi,tán cay,ibori,ceannbhrat,kuppel,шатыр,tak,???????,?????,?????,baldachin,marquise,ejt?erny?kupola,Baldachyn,tootoo,?????,крошна,parepare,надстрешница,canopi,pabellón,???????,?????,kuppel,??,kanupew,g?lgelik,mkpuchi,kanopi,ibori,????????,canonus,s?van,kupolo,denga,tend?,???,soyabon,mkpuchi,caoraich,mangole,copa,rufi,???????,nadstre?nica,kamba,Baldachyn,denga,ngophawu,?????????,халхавч,lapene,s?van,???,Puente,kap,rufi,к?ш?г?,copa,dosser,????????,??,toj roob hauv av,?????